Technical specification:
hull weight

74kg (163lb)

length

4.45m (14.4ft)

beam

1.77m (5ft 7in)

crew

2 (single trapeze)

mast

6.25m (20.5ft)

genaker surface

15.00 m

2

 (181.2sq.ft)

upwind surface

12.5 m

2

 (142.0 sq.ft)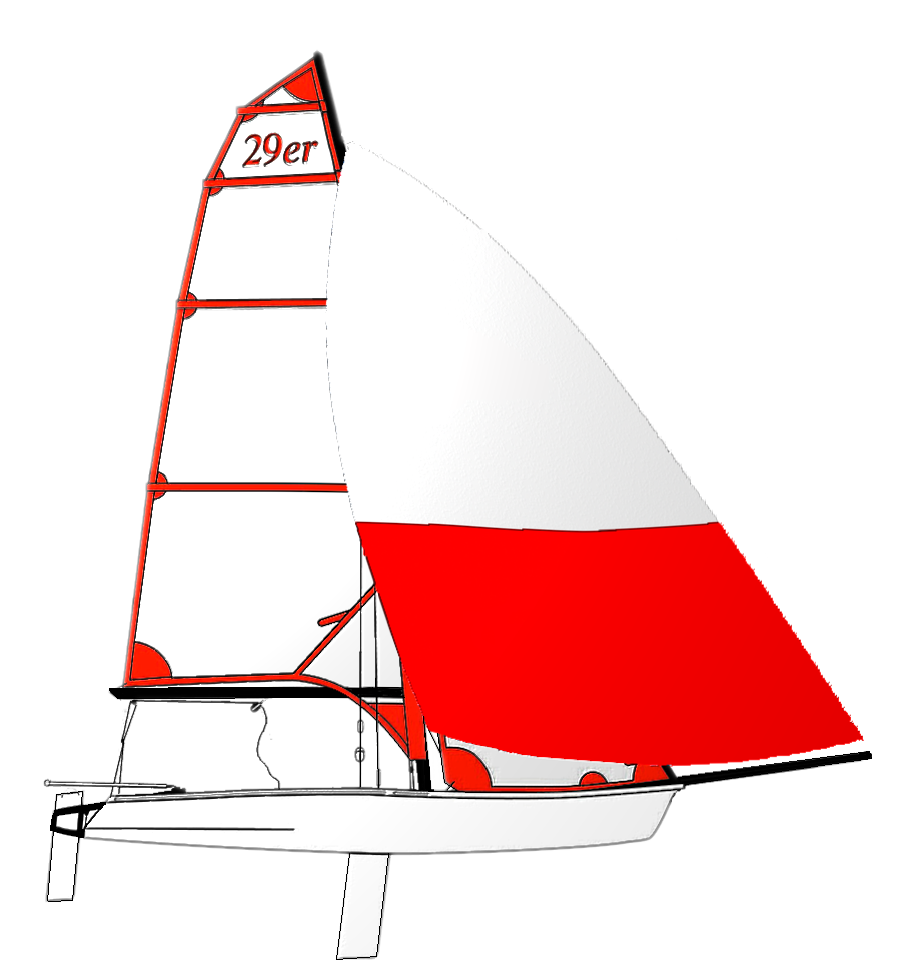 The Skiff 29er has a narrow, sharp bow and a wide, flat stern, making it easy to plan even in medium winds.

The basic rule is that there is nothing to fight with  🙂 You have to learn to trim the yacht so that you can always sail flat. Only then is it possible to sail fast and point high.  The helmsman, sailing upwind, passes the mainsheet to the crew, who maintain the boat flat while hanging on the trapeze. The helmsman trims the jib and takes the mainsail sheets only before tacking. On downwind, the helmsman controls the mainsail, and the crewman keeps the large gennaker sheets. Everything happens very dynamically, especially when it blows more than 10 knots.

 

Who is a youth skiff for?

For every competitor finishing their adventure with Optimist, but also for people who swap from another class – looking for speed, freshness, adrenaline and opportunities for Olympic development. The recommended age for starting a career in the 29er class is a minimum of 14 years. 

The first thing you should know – it is a two-person class, requiring training in harmony, good communication and cooperation between two people. You have to think about it from the beginning when assembling the crew. The class requires high physical fitness. First of all, coordination, jumping, flexibility, endurance and strength. Training sessions on skiff, same like races, are slightly shorter than in similar-sized classic boats. You also need strategic, tactical and technical experience from previous classes, because in 29ers everything happens faster, you have to be able to make key decisions with much greater intensity. The boat repays for this with incomparable impressions in terms of speed, acceleration and fun!

 

The 29er is quite roomy when it comes to the crew's weight range. It is handy for the crewman to be taller and heavier than the helmsman. This helps to shift the center of gravity forward and outside the boat. You can start sailing weighing together about 105 kilograms (when you are about 14-15 years old) and end up weighing about 130-135 kg (when you are about 18 years old). Of course, there are also crews significantly exceeding these ranges sailing in the class. Older people also sail – seniors, because the regatta is not limited by age – they are open to seniors. Based on the analysis of individual world champions, it can be estimated that the optimal averaged weight for the 29er is 120-125 kg, athletic figure and high height, although, as in every class, light crews sail much faster with wind up to 10 knots, while heavy crews will definitely have easier in strong winds.

However, this is only a statistic, so if you keen on trying 29er and feel that you can do it – we invite you to skiffs!

 

During the training process, we focus on strategic and tactical, technical, mental and motor development in order to safely and effectively enjoy racing in the 29er.

International 29er Association run a website here:    www.29er.org
Polish 29er Association run a website here:   www.facebook.com/29erclasspoland
Prices for new and charter 29er yachts, sails and accessories can be found here: www.sailcenter.com/en/shop-by-boat/dinghies/29er/

 

 

 

Welcome, let's try yourself in Golden Boats Academy !